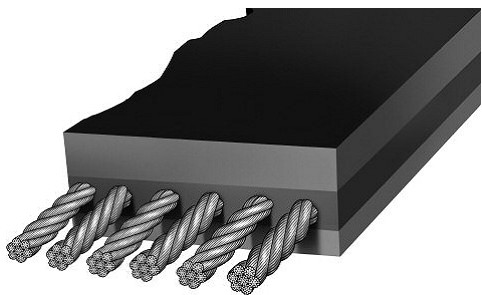 Description
General-purpose steel cord belt use high-strength steel cord as frame materials, and it is built in a uniplane construction with insulation gum and outer rubber covers, then after curing process, it will be the product.
Market: Distributed occasion, cement, coal mines, quarries, power plants, steel works.
Application Locations: Main transmission lines, long overland transportation, laneway transportation, ship loader, tilt transmission, the transmission of other demanding requirements.
Tensile strength: 500 ~ 10000N/mm Width: 500 ~ 3200mm.
Features and preponderances of the belt:
1.Using zinc galvanized open steel cord
we uses zinc galvanized open steel cord in order to meet kinds of particular application. The cords are constructed to provide high flexibility, low elongation, and to permit efficient and high strength splice designs. The galvanized zinc coating produces a bonding agent between the cord and insulation gum and provides an important barrier against corrosion.
2.High tension capabilities
Our steel cord belt demanding applications, and we continues to design the strongest belt to meet the growing demand for long overland systems.
3.Limited take-up travel
Our steel cord belt elongates a maximum of 0.25% at rated tension. This allows lower cost take-up systems on many applications, and makes our steel cord belt the preferred choice for long overland and short stacker/reclaiming systems, where minimum elongation is critical.
4. Life -long splices
Our proven splicing methods, validated on Dynamic Splice Tester, results in dynamic splice efficiencies in excess of 50% rating defined in DIN22131 part 3.With proper technique, splice on our steel cord belt should last the life of the belt.
5.High impact resistance
Our advanced cover compounds and our insulation gum's superior adhesion combine to provide the impact, tear, and abuse resistance your applications demand.
6.Lower unit cost of transportation
Fewer conveyors and splices, shorter take-ups, and reduced belt inventory add up to significant cost savings right up front. Longer belt life, life-long splices, excellent belt training, and reduced downtime save you even more down the road. It all adds up to a lower cost-per-ton of material conveyed, which can make a major improvement in your bottom line.